Shop & Give For YTF
If you are interested in partnering with YTF's Shop & Give program, please contact us for more information.
Sikulu.com and Kunle Oguneye partner with YTF,  contributing 30% of all proceeds
Sikulu & Harambe by the Zambezi River: An African version of the Good Samaritan Story
Kunle Oguneye was born and raised in Nigeria.  He left a career in technology in order to pursue his love for children's story-telling. "Sikulu & Harambe by the Zambezi River," is the first in a series that follows Sikulu the Spider and Harambe the Hippo as they travel to different countries in Africa. Based on an actual folktale, it is a great story that reinforces the beauty of kindness to young children.  The book also offers a glossary of terms and weaves information about Zambian culture into the story.  Children and adults alike come away better informed about life in Zambia.

For more information and to purchase, please visit http://www.sikulu.com/shopping.php/?gfapp=YTF2009.
*******
eScrip Online Mall Partners with YTF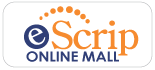 A one-time secure-registration of your grocery loyalty cards, credit card, or debit/ATM card will automatically raise funds for YTF anytime you shop any of the online or physical locations of the over 700 most popular and local shops.
If you shop or make travel reservations online for your home or business, PLEASE considering using the eScrip Online Mall every time you make a purchase! When you do, Youth for Technology Foundation (YTF) receives a percentage of merchant profits. You pay the same prices, shop anonymously, and help YTF- all with a few clicks!Use this link EVERY TIME you shop: https://secure.escrip.com/jsp/group/onlinemall/groupmallredir.jsp?gid=500024447
It's a lot to type, so make it a "favorite."
Important Caveats
For YTF to receive the donations, you must access a merchant website from the Mall, so go to the Mall first, use the search box to find a merchant, click on your merchant, then voila!
Do not use any other link to shop the Online Mall; other links either don't donate to YTF or offer anonymous shopping.
Friends, relatives, and neighbors can shop the Mall to have proceeds benefit YTF. They don't need to join eScrip.
********
The I Do Foundation Partners with YTF
The I Do Foundation is a nonprofit organization that helps couples bring a charitable focus to their weddings. When couples register their wedding through the I Do Foundation website, they can select Youth for Technology Foundation (YTF) as the organization they would like to support. The couple then generates donations in several ways by asking for donations in lieu of a gift, through honeymoon purchases, by making donations in place of wedding favors, or by registering for gifts that raise donations.
---
Add this page to your favorite Social Bookmarking websites
|
More...